ZION LUTHERAN CHURCH




                  Our Mission




HEARING, SHARING AND LIVING THE GOSPEL
Dear Friends in Christ:
Want to hear the latest gossip? Listen, I know it's not thought of as very 'Christian' but I've got some shocking news – something I thought you'd want to know! Now you have to promise to… well, you know. But listen, this is something awful I heard that 'others' are saying. 'They' were overheard talking about this stuff and it's just too scandalous not to pass along. With 'them' knowing about it, I thought you should know, too. It's about our 2021 Lenten Theme. 
What "They" Said When Jesus Went to Calvary
This year our Lenten journey brings us to the cross through the words of "the others," "the them," "the they." Some of "them" are those who watched, and some are "others" who participated in Jesus going to Golgotha. From what "they said" we hear the witness of those who were there to see it and, in some cases, move the events along. This outrageous theme is powerful for us because it is through their eyes and words that we see and hear. We will witness through "them" how Jesus fulfilled the promises spoken of in Holy Scripture regarding the scandal of the Lamb of God, come to take away the sin of the world. What "They" Said When Jesus Went to Calvary is what gives us hope, because what "they" said speaks the shocking truth about Jesus, the Word of God Incarnate.
You're invited to join us for our mid-week Lenten services on Wednesdays at 7PM now through March 24th. 
Welcome from wherever you are! We're glad you stopped by here on our website. And right now, this is the place to be!    We never lose sight of the fact that God is sovereign in all things (Luke 12:3, John 16:19, 1 Timothy 6:13, Revelation 1:8) . And that our circumstances do not catch God 'off-guard'. We trust Him to act and to care for us as is evidenced by His taking care of our greatest need; that of reconciliation with Him. This He accomplished through the cross of His Son Jesus Christ (Hebrews 2:17).
By Christ's sacrificial atonement for our sins, God has accomplished overcoming our fall into sin. Knowing that nothing escapes His notice (not one sparrow falls that He is unmindful of, Matthew 10:29, Luke 12:6), we trust what we are going through has not escaped His notice either. In fact, it is something we can be absolutely certain He has known about from creation! And in the midst of these uncertain days, He has chosen to grant us the treasure of hope in the provision of salvation made for us by His Son Jesus Christ alone.
And as we learn more and more to lean on Him and trust in Him to guide us through these times, we will learn again that He never leaves us or forsakes us (Hebrews 13:5). Again, I invite you to join us online for worship each week. We post our worship services every Sunday afternoon.
Let me close with St Paul's words from 2 Corinthians 4:7-11 that speak to us in a fresh way in these 'COVID days'.
7 But we have this treasure in jars of clay, to show that the surpassing power belongs to God and not to us. 8 We are afflicted in every way, but not crushed; perplexed, but not driven to despair; 9 persecuted, but not forsaken; struck down, but not destroyed; 10 always carrying in the body the death of Jesus, so that the life of Jesus may also be manifested in our bodies.
Soli Deo Gloria – All Glory to God!
Peace in Christ, Pastor Tom Rhodes
***************************************************************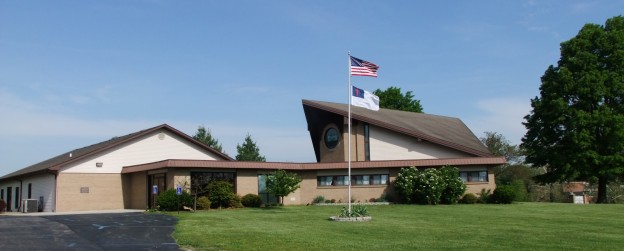 ---
Find Us
We are located at 600 East Aldrich Road, across from Southwest Baptist University and about 2 blocks west of Springfield Avenue (Hwy 83).  Church office hours can vary for our administrative assistant.  Please call in advance of visiting to ensure the office is staffed.
Zion Lutheran Church
600 East Aldrich Road
Bolivar, Missouri  65613
(Mailing Address:  PO Box 5, Bolivar, MO 65613)
Telephone: 417-326-5506
Preschool:  417-319-4755
church@zionlutheranbolivar.org